Water & Flood Damage Restoration in College Park, MD
When disaster strikes, it strikes fast. A flood rushes through your home or business or a pipe burst drenches your property. This can be hard to deal with, as you try to figure out what can be saved and what must be thrown away. Don't face water damage alone. You need a professional response to stop your property from getting more damaged, and waiting even a couple of days can add to the cost and complexity of your restoration.
UCM Carpet Cleaning College Park takes charge of water damage. We are here for you seven days a week, ready to respond quickly to your call. Our restoration specialists are skilled in all aspects of restoration, for the professional results you need.
College Park Water Damage Restoration Services
The services offered by UCM Carpet Cleaning College Park will take care of every aspect of restoration you require. We staff our emergency phone number around the clock so that we can begin restoring your property as soon as possible.
Water extraction and removal takes care of the bulk of the water that has flooded your workplace or residence. We use professional extraction equipment to reach deep down into the carpet and carpet pad. This is the critical first step to getting your property completely dry again.
We use special equipment and techniques in the drying process, like:
air movers and blowers
HEPA filtering
professional-grade dehumidifiers
thermal imaging and other moisture detection equipment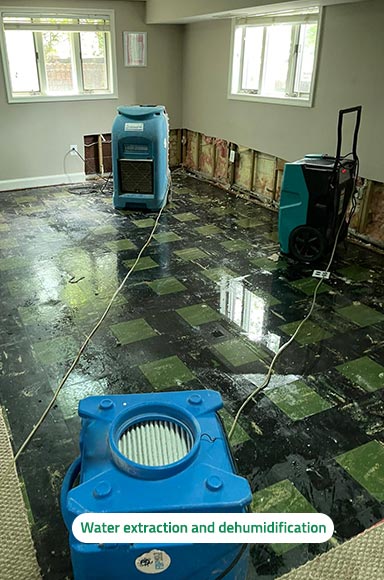 Mold and Mildew
Mold spores are naturally in our air. When they encounter moisture, mold can start to grow and multiply in as little as 24-48 hours. UCM Carpet Cleaning College Park works to prevent mold and mildew growth as part of our water damage restoration services, but we also treat existing mold. Our mold remediation specialists remove bulk debris, like drywall, that is extremely susceptible to mold growth when wet. We will clean mold growths, and disinfect the areas to discourage it from coming back.
We emphasize safety first. Our experienced team will clean your property and restore it so it is safe for you and everyone else, too. We will also work with you and your insurance company to get the needed information for your insurance claim.
Need Urgent Water Damage Assistance?
We strive to respond promptly to all emergencies so that everyone with water damage gets help as soon as possible. To this end, we have partnered with Flood Damage Pro. They are one of the best restoration companies in DC and MD, and they have vast experience in water damage restoration and emergency water removal. You can read all about Flood Damage Pro and their services here: Flood Damage Pro - Water Damage Restoration