Finding Mold with Mold testing and Inspection - College Park
Have you been looking for a mold testing service or mold removal services in College Park? Keep calm as UCM Carpet Cleaning College Park is here for you. We do mold testing, mold inspection, black mold removal and other services.
Why Test for Mold?
If you are having health issues with mold, do mold testing so as get proof that actually there's a presence of mold in a given area. Then, if there's mold, you will know that it needs to be dealt with. People also find this important in order to determine if they'll need to do mold remediation, to remove and treat molds around the house so as to keep them in control and stop mold growth.
The Mold Testing Process
Mold testing simply means the process in which a technician takes samples in a given area of a building to determine if there's a presence of molds. During mold testing in College Park, a sample is taken from the open air outdoors to act as a control for the normal mold conditions near your property. This is used to compare once the other samples are taken. The mold technician may also opt to take samples from objects that have been affected by molds.
Unlike most mold removing companies, once UCM Carpet Cleaning College Park home mold tests for you, it will only take them a few work days to deliver a report to you. However, at an additional fee, the report can be availed to you in just a day. Mold testing with 2 samples is available for $350, with additional samples costing $75 extra per sample.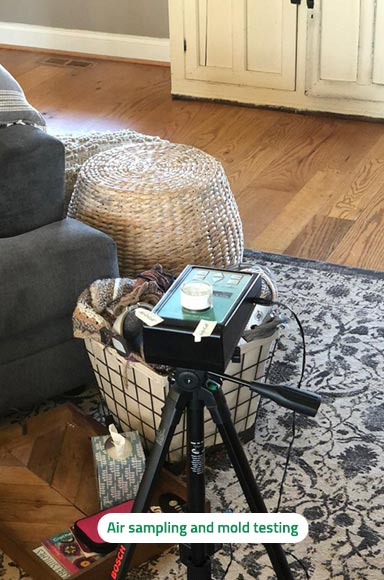 Mold Inspection
UCM Carpet Cleaning College Park also does mold inspection in College Park, MD, for a one-time fee of $149.
People's reasons for doing mold inspection would be that they need to know if there's a mold infestation and what it will take them to get rid of mold in the house.
In mold inspection, the mold specialist does visual inspections to identify affected areas. Our inspection though goes one step further than just seeing where the mold is growing. Our mold expert knows what needs to be done to get rid of the mold completely, and will build a detailed estimate for a complete mold remediation process. Once the inspection is done, this report is available to the client at the end of the next working day, so they can make an informed decision for their property.
You need all the info to make the best decision - Call us today at 301-576-2701 for professional mold inspection and mold testing services.